title
1842 – The partnership between James and Thomas Edwards ended on 1st April and James Edwards decided to risk everything by buying the Dalehall Pottery from his first employer, Spencer Rogers.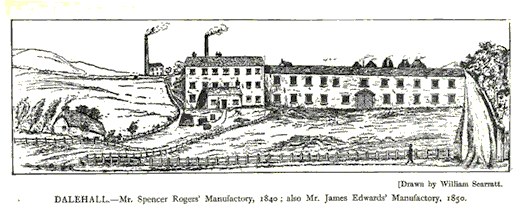 During the early years of the Dalehall Pottery, James Edwards set about enlarging and extending – in 18 years he increased the premises three-fold.

At every point in the production process he installed the latest machinery: steam jiggers – lathes, jollies, throwing wheels, patent pressing machines, patent stoves, pug-mills and a flint mill. One result was a six fold increase in output – and an output responsive to the needs of his market. His contemporaries recognised his key ability as being that of "comprehending what was required by his customers, and seeing by what methods he could most efficiently meet their demands"
In the production of ornamental ironstone china many of the bodies and shapes were of his own invention and design. There were over a dozen designs registered at the Office of Registry of Design in London during this period.
© 2011-2023 Sue Mussell